Join some product
communities
Using Slack is a great way to grow your product management skills by learning from experience. The ability to talk to other product people; with different backgrounds, experiences and roles can be at your fingertips.
What are the best Slack Channels for Product Managers?
Below is a curated list of some of the best Slack Channel communities for product managers:

Slack community from one of the largest product educational institutes in the world. A lot of events, AMAs and tones of product related advice available.

Large slack group from the Mind the Product group, one of the largest organisers of product events in the world, and one of the most active communities.

Slack community from the ProuctLed Growth team, who provide product related training for top organisations. They also offer ebooks on their site

Community of product managers, strategists and designers in Utah. Offer mentorship and other related product events.

The world's largest independent Product Management community. 1,000,000+ annual readers. 7,000+ Slack members.

Product Manager HQ is a community
that accelerates your product skills, network, and career.

Community for Women in Product Management. A welcoming community where women in product are inspired, connected, and celebrated.

Slack group aimed at start ups and founders to exchange information and experiences. Great for any budding entrepreneurs or company founders.

Slack community of people who want to retain our users, and talk about product changes and stories leading to customer retention and happiness!.

Often when you are an product manager, you need to be the CEO of your product. This means learning about certain areas such as content & UX. The slack group great for you to improve your skill in UX.
A community that focuses on people and culture side of product management. If you are a product leader then this is a great community to improve those skills with likeminded people.
Slack is where work happens for over 10 million people across the globe. The app helps small and large teams improve their productivity by providing a single hub for communication, reports, and files. Companies like Oracle, Lyft, Target, and LinkedIn use Slack as a collaboration hub to make communication more transparent and improve their workflow.
Apart from being a go-to tool for team collaboration, public Slack communities have become a medium for like-minded professionals to engage and participate in meaningful conversations. Public Slack communities are team workspaces that are open for everyone to join.
I would say most product managers are familiar with Slack. It has many great uses such as communicating with development teams and stakeholders, coordinating and solidifying projects across different teams and even using as a tool to automate alerts.
Why is Slack Good to Use for Product Management?
Slack is now a staple in the business world. If you work for a tech-savvy company (or even not now), you are probably already using it.
But your own co-workers and stakeholders aren't the only people you can communicate with on the platform. There are now thousands of user-created communities on Slack, where like-minded people can get together to discuss a specific interest or topic. Product Management is no exception to the rule. 
Many large product organisations such as Product School and Mind the Product have created such groups to connect product communities and help them with various elements of the craft.
Fortunately, because Slack allows you to manage different workspaces easily – you can switch between your professional Slack (if you use it), and community driven ones. They simply appear in the side menu: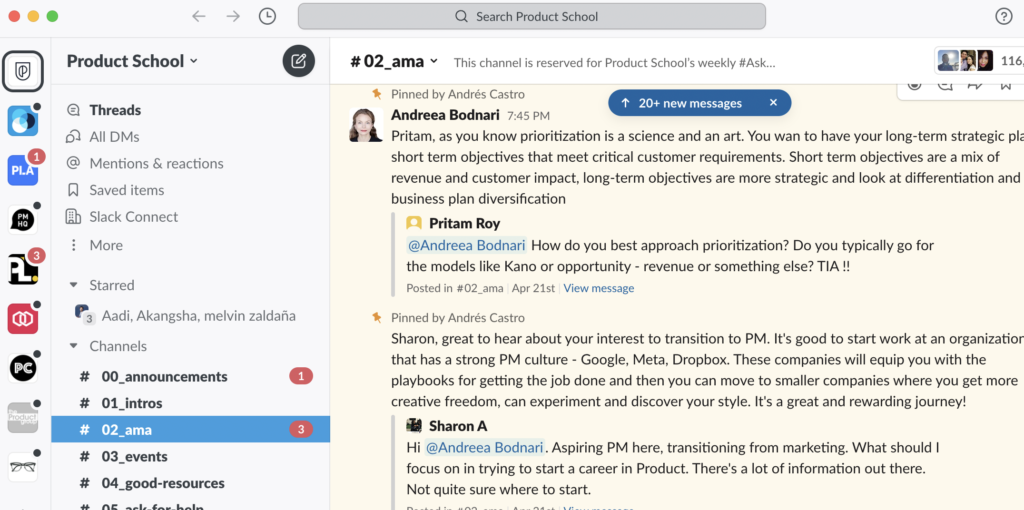 What are Product Slack Communities?
The internet has made it possible for people to come together over virtually any shared interest. Groups on Facebook and LinkedIn, forums, subreddits, and even question-and-answer style sites like Quora In many cases, these discussions are relatively brief, because users visit these sites with the goal of finding an answer to a single question or issue. And after they find the information they need, they might never return to that site again. 
Slack communities are different. While they're still created around a specific topic, and designed to let users share their knowledge and insight, they're intended to be much more conversational. And, as the name implies, they're intended to foster communities of people with shared interests. 
Members can connect with like-minded people, learn more about the topic at hand, and use their own experience to help others succeed. Plus, most communities also have channels solely for chatting about things completely unrelated to their core topic. This way, members can get to know each other through casual conversation, and have a place to share their thoughts throughout the day.
How can you join a Community?
Joining a Slack community requires an invite from the administrator. That's why most communities have sign-up forms that prospective members can use to let administrators know that they're interested in joining. 
Most of these forms will ask for your name, email address, and a brief explanation of why you're interested in joining. Depending on how active the administrator is, you may receive your invitation anytime within a few minutes to a few days. Then, once you accept, you can start engaging with other members immediately.
What kind of help will I Find in the Product Community
You can kind all kinds of help on various topics within the community. Some examples are:
Product interview help
CV review and help
 Product tools information
Job postings
Product event postings
Product feedback
New product launches 
Funnies
Consultancy
Training
Roadmap help
Metrics help